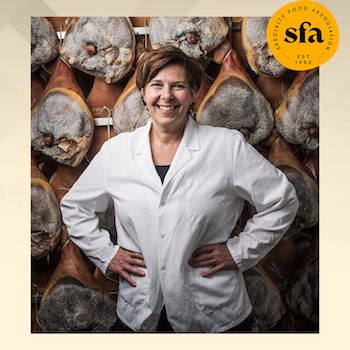 The Specialty Food Associations 8th annual Leadership Awards recognizes industry visionaries positively impacting social, economic and environmental efforts. Pasetti, President and CEO of family-owned Volpi Foods has been recognized for her outstanding business leadership. Furthering her family legacy in the art of dry-curing specialty meats, her proficiency is unparalleled in the world of charcuterie.
Volpi Foods has been family owned and operated since 1902. Third-generation leader, Lorenza Pasetti, has achieved the coveted title of Dry Cure Master – only bestowed to those that have dedicated their life to studying the art of charcuterie. Within her time at Volpi, Pasetti was able to double capacity within her first 5 years of ownership, remove all synthetic sodium nitrates and nitrites from the products, and achieve the highly recognized SQF Level 3 certification – a first for artisan dry cured meats.
Pasetti's focus on sustainability and quality keep her at the forefront of industry-leading initiatives stating, "My primary mission has always been to deliver the best tasting products to our consumers." Her vision of Volpi expands wider than crafting the highest quality specialty charcuterie - Pasetti adds "Other goals have been shaped by our environment, societal influencers, my children, our eating habits and our desire to emphasize sustainability and agricultural biodiversity. The idea of food culture - connecting growers, manufacturers, consumers, neighbors over a single product or ingredient – has always been a driving force in how I look at our business. We are less a specialty meat company and more so a link in a chain joining together farmers and foodies." To see more information on Lorenza's SFA recognition, visit https://www.specialtyfood.com/awards/leadership/2020-leadership-award-winners/.