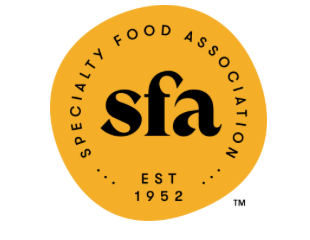 New York, NY (July 5, 2022) Specialty Food Association (SFA) members have voted for their new Board of Directors, and the election results were announced at the Annual Member Meeting on June 28th via Zoom. Each General Member company can cast one vote, and voting was conducted online.
"The SFA takes pride in engaging the wisdom and expertise of our members," said Laura Lozada, Vice President of Membership for the SFA. "Voter turnout was robust around a fair process that creates more opportunity, with a balanced Board and a volunteer slate."
The newly elected Class of 2025 Board members of the Association are:
Jill Giacomini Basch Point Reyes Farmstead Cheese
Julie Busha Slawsa
Nona Lim Nona Lim
Victoria Ho Sherpa CPG
Jon Pruden TASTE Family of Businesses
The new Board members will serve a three-year term, beginning July 2022 - June 2025.
In addition to the slate, Scott Jensen, Rhythm Superfoods LLC, was appointed to a one-year term to fill a vacancy.
Board Officers for 2022/23
Chair: Jon Pruden TASTE Family of Businesses
Vice Chair: Nona Lim Nona Lim
Treasurer: Pierre Abushacra Firehook Bakery
Secretary: Jill Giacomini Basch Point Reyes Farmstead Cheese
Directors Continuing to Serve 2022/23:
Class of 2023
Tyler Lowell C.A. Fortune
Sarah Masoni Oregon State University Food Innovation Center
Sarah Wallace The Good Bean, Inc.
Class of 2024
Charlie Apt Sarabeth's Kitchen
Beth Haley DPI Specialty Foods
Emilio Mignucci Di Bruno Bros.
Jomaree Pinkard Hella Cocktail Co.
Lee Zalben Peanut Butter & Co.
More than 70 additional volunteers were announced for five Industry Work Groups (IWGs), which encompass In-Person Events, Preparedness, Community (Buyer Relations), Digital Offerings, and Recognition, and also five committees, DEI, Distributor, Finance, Governance, and Membership.
For more information, visit specialtyfood.com.
# # #
About the Specialty Food Association
The Specialty Food Association (SFA) has been the leading trade association and source of information about the $175 billion specialty food industry for 70 years. Founded in 1952 in New York City, the SFA represents manufacturers, importers, retailers, distributors, brokers, and others in the trade. The SFA is known for its Fancy Food Shows; the sofi™ Awards, which have honored excellence in specialty food and beverage for 50 years; the Trendspotter Panel Show reports and annual predictions; the State of the Specialty Food Industry Report and Today's Specialty Food Consumer research; the SFA Product Marketplace, where members showcase products; SFA Feed, the daily source for industry news, trends and new product information, and Spill & Dish: A Specialty Food Association Podcast.
Press Contact: press@specialtyfood.com
Facebook: Specialty Food Association
LinkedIn: Specialty Food Association
TikTok: specialtyfoodassociation
Twitter: @Specialty_Food
Instagram: @specialtyfoodassociation
Press Office Consultant
Specialty Food Association