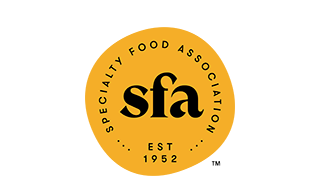 New York, NY (July 15, 2020) Specialty Food Association (SFA) members voted in record numbers for their 2020 Board of Directors. The election results were announced at the Annual Membership Meeting of the Association held on June 29, 2020. For the first time, due to pandemic-driven cancellation, that meeting was held virtually rather than in conjunction with the Association's Summer Fancy Food Show.
"It was wonderful to see how engaged SFA members are, even in these turbulent times," said Bill Lynch, SFA Interim President. "We had more members than ever cast ballots compared to prior elections. We are especially gratified that the increased diversity of our new board better reflects the ever-changing demographics of our membership."
The newly elected Officers of the Association are:
Chairman - Charlie Apt, Sarabeth's Kitchen
President and COO of Sarabeth's Kitchen, a company composed of a bakery and café in Chelsea Market, NYC; a specialty food manufacturing and distribution facility in the Bronx; and the licensing entity of the Sarabeth's brand to restaurants in the U.S., Asia and UAE. Prior to Sarabeth's, Apt was President and Chief Operating Officer of Ciao Bella Gelato Company.
Vice Chair - Emilio Mignucci, Di Bruno Brothers
Third-generation owner and VP of Culinary Pioneering at Di Bruno Bros., a Philadelphia-based company with five gourmet retail stores; a craft producer wine and beer shop; an import, distribution, and manufacturing business; and a catering and events operation. Mignucci helped to grow the family business from one small store to what it is today.
Financial Officer – William "Pete" Booker, III, Savannah's Candy Kitchen
VP of Strategy & Business Development at Savannah's Candy Kitchen in Savannah, GA. For 40 years, the company has offered an array of Southern confections. There are seven retail locations in the southeast and several franchise locations nationwide. Prior to joining Savannah's, Booker was VP & General Manager of Smithfield Specialty Foods Group.
Secretary – Julie Busha, The Busha Group, LLC
President and CEO of The Busha Group, the North Carolina company created and launched its unique relish, Slawsa, to the market in 2011. In less than two years, Slawsa obtained placement in over 5,000 grocery stores in the US, Canada, Australia and Germany. Prior to founding the company, Busha had a very successful career in marketing.
Immediate Past Chair – Becky Renfro Borbolla, Renfro Foods
VP and Co-Owner of Renfro Foods, Inc., a third-generation, family-owned manufacturer of specialty foods based in Fort Worth, TX. Among its products, Renfro Foods produces a line of gourmet salsas with easy-to-use recipes on the jar label under the Mrs. Renfro's name.
"I look forward to the work ahead," Chairman Charlie Apt shared, "We are a resilient, innovative industry and the SFA board is dedicated to supporting programs, services, and events that strengthen specialty food businesses. We know that the SFA is more important than ever as we work to recover from the impact COVID-19 has had on food manufacturers, buyers, distributors and brokers."
SFA Board Officers serve one-year terms. The Directors serve for three years with staggered terms. Those serving one and two years are fulfilling their tenures:
For one-year terms (2020-2021):
Beth Haley (Distributor, DPI Specialty Foods – serving on the SFA Board as elected Distributor Committee Chair)
Lee Zalben (Maker, Peanut Butter & Co.)
For Two-Year Terms (2020-2022):
Jill Giacomini Basch (Maker, Point Reyes Farmstead Cheese Co.)
Julie Busha (Maker, Slawsa)
Mark Kroencke (Distributor, KeHE Distributors LLC)
Nona Lim (Maker, Nona Lim)
Jon Pruden (Buyer, TASTE)
The board directors starting three-year terms (2020-2023) are new to the SFA board:
Pierre Abushacra (Maker, Firehook Bakery)
Sana Javeri Kadri (Maker, Diaspora Co.)
Tyler Lowell (Broker, CA Fortune)
Sarah Masoni (Affiliate, Oregon State University Food Innovation Center)
Sarah Wallace (Maker, The Good Bean, Inc.)
In addition to electing the slate of Board Directors, SFA members voted on and passed a ballot initiative to maintain the Association's not-for-profit status.
About the Specialty Food Association
Founded in 1952 in New York City, the Specialty Food Association (SFA) is the leading advocate for the $158.4 billion specialty food industry. Representing makers, importers, entrepreneurs, retailers, distributors and others in the trade, the SFA aims to champion, nurture and connect its members to deliver traditional and innovative new products to consumers that expand consumption of specialty foods. With over 4,000 member companies, the Association helps its members through providing information, research, educational events, and celebrating the industry through its awards programs. The SFA is known for hosting the Winter and Summer Fancy Food Shows and presents the sofi™ Awards honoring excellence in specialty food. Learn more at specialtyfood.com
Media Contact:
PR Department, (646) 878-0306, press@specialtyfood.com
Facebook: Specialty Food Association
LinkedIn: Specialty Food Association
Twitter: @Specialty_Food
Instagram: @specialtyfoodassociation
Pinterest: @specialtyfoodassociation