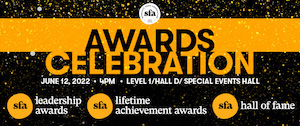 NEW YORK (June 6, 2022)– Eighteen leaders in the specialty world will be recognized by the Specialty Food Association at the upcoming 2022 Summer Fancy Food Show.
In recognition of their contributions to the $170.4 billion specialty food industry, the honorees will be ?celebrated on-site at the Show:
Leadership Awards
2021 Lifetime Achievement Award Winners
2022 Lifetime Achievement Award Winners
2021 Hall of Fame Class
2022 Hall of Fame Class
"The awards recognize the contributions of these talented individuals and how they have impacted the specialty food industry," said Laura Lozada, Vice President of Membership for the SFA. "These honorees are a reflection of our membership's depth of experience and diverse expertise."
The honorees will be celebrated the afternoon of Sunday, June 12, 4 p.m., at the Javits Center.
Open only to the trade, the 2022 Summer Fancy Food Show is the largest B2B-only specialty food and beverage show in the U.S. The SFA is working with New York City to ensure that all show safety protocols meet the needs of the specialty food community. Registration for the Fancy Food Show is at fancyfoodshows.com.
# # #
About the Specialty Food Association
The Specialty Food Association (SFA) has been the leading trade association and source of information about the $170.4 billion specialty food industry for 70 years. Founded in 1952 in New York City, the SFA represents manufacturers, importers, retailers, distributors, brokers, and others in the trade. The SFA is known for its Fancy Food Shows; the sofi™ Awards, which have honored excellence in specialty food and beverage for 50 years; the Trendspotter Panel Show reports and annual predictions; the State of the Specialty Food Industry Report and Today's Specialty Food Consumer research; the ecommerce enabled SFA Product Marketplace, where members showcase products and sell directly to qualified buyers; SFA Feed, the daily source for industry news, trends and new product information, and Spill & Dish: A Specialty Food Association Podcast.
Press Contact: press@specialtyfood.com
Facebook: Specialty Food Association
LinkedIn: Specialty Food Association
TikTok: specialtyfoodassociation
Twitter: @Specialty_Food
Instagram: @specialtyfoodassociation
Hashtags: #FancyFoodShow #FancyFoodNYC #SpecialtyFood
<!-- /* Style Definitions */ p.MsoNormal, li.MsoNormal, div.MsoNormal {mso-style-parent:""; margin-top:0in; margin-right:0in; margin-bottom:10.0pt; margin-left:0in; mso-pagination:widow-orphan; font-size:12.0pt; font-family:"Times New Roman"; mso-ascii-font-family:Cambria; mso-ascii-theme-font:minor-latin; mso-fareast-font-family:Cambria; mso-fareast-theme-font:minor-latin; mso-hansi-font-family:Cambria; mso-hansi-theme-font:minor-latin; mso-bidi-font-family:"Times New Roman"; mso-bidi-theme-font:minor-bidi;} h1 {mso-style-link:"Heading 1 Char"; margin:0in; margin-bottom:.0001pt; mso-pagination:widow-orphan; mso-outline-level:1; font-size:24.0pt; mso-bidi-font-size:10.0pt; font-family:"Times New Roman"; mso-ascii-font-family:Times; mso-hansi-font-family:Times; mso-bidi-font-family:"Times New Roman"; mso-bidi-theme-font:minor-bidi; font-weight:bold; mso-bidi-font-weight:normal;} h4 {mso-style-link:"Heading 4 Char"; mso-margin-top-alt:auto; margin-top:5.0pt; margin-right:0in; mso-margin-bottom-alt:auto; margin-bottom:5.0pt; margin-left:0in; mso-margin-top-alt:auto; mso-para-margin-top:.01gd; mso-para-margin-right:0in; mso-margin-bottom-alt:auto; mso-para-margin-bottom:.01gd; mso-para-margin-left:0in; mso-pagination:widow-orphan; mso-outline-level:4; font-size:12.0pt; font-family:"Times New Roman"; mso-fareast-font-family:"Times New Roman"; mso-bidi-font-family:"Times New Roman"; mso-fareast-language:IT; font-weight:bold;} a:link, span.MsoHyperlink {color:blue; text-decoration:underline; text-underline:single;} a:visited, span.MsoHyperlinkFollowed {color:blue; text-decoration:underline; text-underline:single;} p {margin:0in; margin-bottom:.0001pt; mso-pagination:widow-orphan; font-size:10.0pt; font-family:"Times New Roman"; mso-ascii-font-family:Times; mso-fareast-font-family:Cambria; mso-fareast-theme-font:minor-latin; mso-hansi-font-family:Times; mso-bidi-font-family:"Times New Roman";} span.Heading1Char {mso-style-name:"Heading 1 Char"; mso-style-locked:yes; mso-style-link:"Heading 1"; mso-ansi-font-size:24.0pt; mso-bidi-font-size:10.0pt; font-family:Times; mso-ascii-font-family:Times; mso-hansi-font-family:Times; mso-font-kerning:18.0pt; font-weight:bold; mso-bidi-font-weight:normal;} span.Heading4Char {mso-style-name:"Heading 4 Char"; mso-style-locked:yes; mso-style-link:"Heading 4"; font-family:"Times New Roman"; mso-ascii-font-family:"Times New Roman"; mso-fareast-font-family:"Times New Roman"; mso-hansi-font-family:"Times New Roman"; mso-bidi-font-family:"Times New Roman"; mso-fareast-language:IT; font-weight:bold;} span.legendspanclass {mso-style-name:legendspanclass;} span.apple-converted-space {mso-style-name:apple-converted-space;} span.apple-tab-span {mso-style-name:apple-tab-span;} @page Section1 {size:8.5in 11.0in; margin:1.0in 1.25in 1.0in 1.25in; mso-header-margin:.5in; mso-footer-margin:.5in; mso-paper-source:0;} div.Section1 {page:Section1;} /* List Definitions */ @list l0 {mso-list-id:628319878; mso-list-template-ids:-819554730;} @list l0:level1 {mso-level-number-format:bullet; mso-level-text:?; mso-level-tab-stop:.5in; mso-level-number-position:left; text-indent:-.25in; mso-ansi-font-size:10.0pt; font-family:Symbol;} @list l1 {mso-list-id:830561998; mso-list-template-ids:-1775307876;} @list l1:level1 {mso-level-number-format:bullet; mso-level-text:?; mso-level-tab-stop:.5in; mso-level-number-position:left; text-indent:-.25in; mso-ansi-font-size:10.0pt; font-family:Symbol;} @list l2 {mso-list-id:872380803; mso-list-template-ids:-1054984022;} @list l2:level1 {mso-level-number-format:bullet; mso-level-text:?; mso-level-tab-stop:.5in; mso-level-number-position:left; text-indent:-.25in; mso-ansi-font-size:10.0pt; font-family:Symbol;} @list l3 {mso-list-id:998458978; mso-list-template-ids:-1466646848;} @list l3:level1 {mso-level-number-format:bullet; mso-level-text:?; mso-level-tab-stop:.5in; mso-level-number-position:left; text-indent:-.25in; mso-ansi-font-size:10.0pt; font-family:Symbol;} @list l4 {mso-list-id:1923490652; mso-list-template-ids:-2010347630;} @list l4:level1 {mso-level-number-format:bullet; mso-level-text:?; mso-level-tab-stop:.5in; mso-level-number-position:left; text-indent:-.25in; mso-ansi-font-size:10.0pt; font-family:Symbol;} @list l5 {mso-list-id:2137872407; mso-list-template-ids:1399728848;} @list l5:level1 {mso-level-number-format:bullet; mso-level-text:?; mso-level-tab-stop:.5in; mso-level-number-position:left; text-indent:-.25in; mso-ansi-font-size:10.0pt; font-family:Symbol;} -->