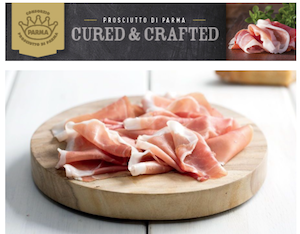 Greetings everyone. We hope you remain safe and well. We wanted to share the message below from the Consorzio del Prosciutto di Parma on a temporary measure extending the shelf life of pre-sliced Parma Ham. We also want to let you know we are preparing a survey to send this month to get a sense of where the market is, and how the Consorzio can best support sales of Prosciutto di Parma in this dynamic environment.
The Consorzio del Prosciutto di Parma is pleased to inform you that we've successfully implemented a measure to help Parma Ham producers deliver product regularly during this uncertain time.
The Italian Ministry has officially accepted the Consorzio's request to temporarily extend shelf life of pre-sliced Parma Ham by 30 days, making shelf life a 150 day maximum.
An additional 30 days allows for producers to use sea transport rather than flight, an expensive means being used due to COVID-19. This decision is critical for product exported overseas, helping producers reduce transportation costs and prevent wasted product.
Please note this is a temporary measure, valid until the end of the COVID-19 Emergency status (currently July 31st).