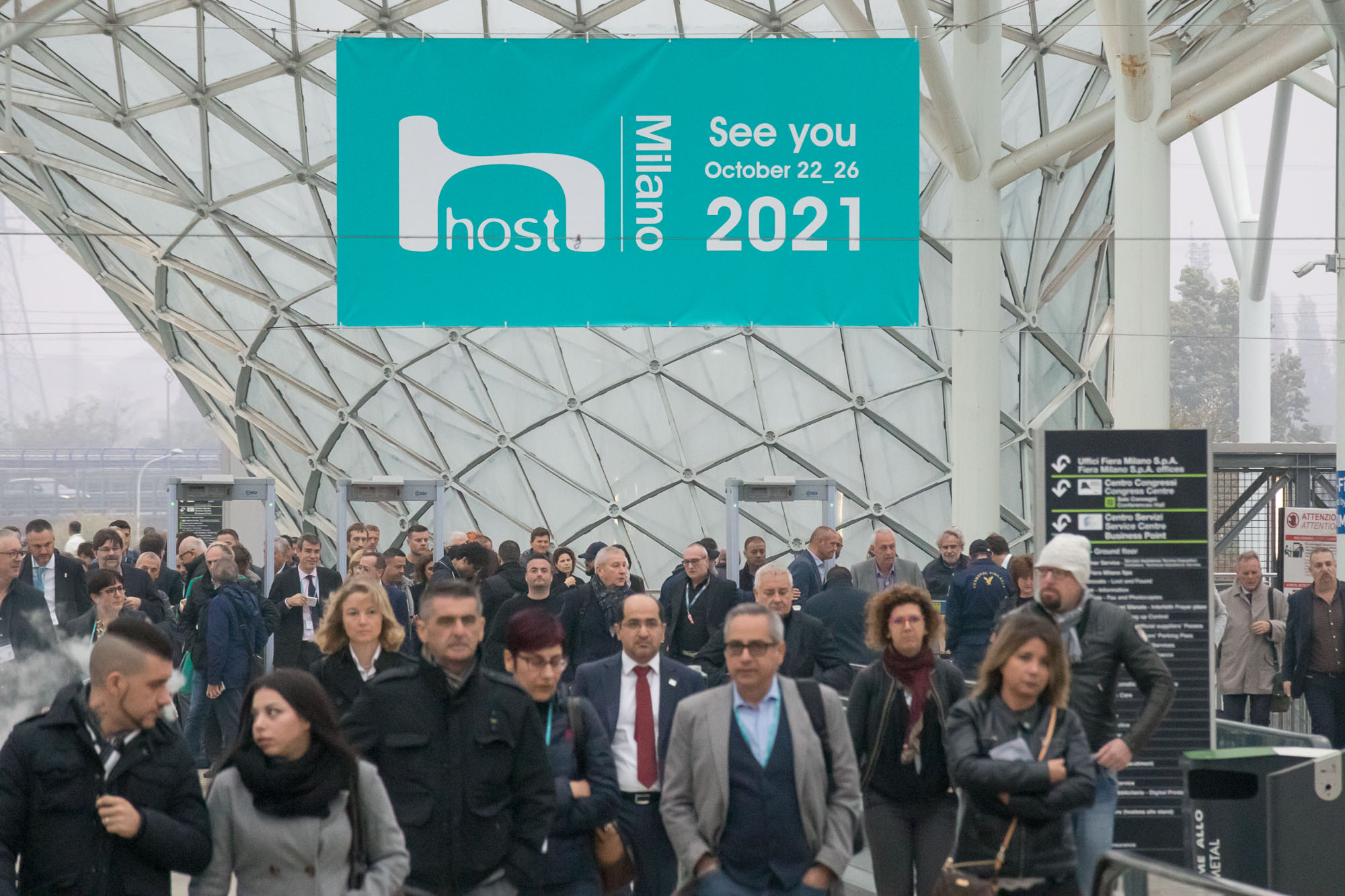 Milan, 29 October 2019 - The 41st edition of HostMilano, the world's leading hospitality event, organised by Fiera Milano, was a unique edition, welcoming professional operators from all over the world and attracting over 200,000 visitors. Growing numbers and 40% international attendance from 171 countries. As well as originating from European countries such as Spain, Germany, France, the United Kingdom and Switzerland, there were particularly large delegations from the USA, China, the Middle and Far East; there were also those who had travelled many thousands of kilometres to reach Milan, even from the Fiji Islands or Nicaragua.
A lively exchange between exhibitors and operators
Continuing the visit of the halls, which animated the entire exhibition district in a cosmopolitan environment characterised by a mixture of languages from five continents, visitors were able to experience innovation first-hand, exploring prototypes and products to discover their smarter, more advanced functions. The companies organised demonstrations and informed tasting lessons with experts who supplied targeted insights to support the efficiency of the technologies presented, developing an approach that was not only commercial but also cognitive. Business meetings with operators and hosted buyers, brought to Milan in part thanks to the collaboration of ITA-ICE from all over the world, particularly from the United States, Canada, Russia and the United Arab Emirates, grew considerably, with immense satisfaction coming from having met proposals that completely fulfilled their expectations, as they told us in their own words:
"At HostMilano our aim is to find products and solutions that help us redefine the concept of luxury in our facilities - explains a spokesperson for Four Seasons Hotels and Resorts (USA) –. Today, in fact, luxury is a matter not so much of economic exclusivity as of experiential exclusivity. The extensive ranges on display at Host allow us to navigate trends and find innovative products that meet this need".
"Among the halls we found a lot of innovation and creativity from all over the world - add the people from 7 Eleven (Canada) - and our goal is to improve our knowledge of these new proposals to identify which ones to buy. Our customers continue to demand high-quality products in a welcoming environment, capable of creating unique experiences, and here the number of exhibitors from all over the world helps us pursue this goal more effectively.".
"Italian hospitality has been popular in Japan for many years - comments Masuda Brick (Japan) - but in recent years we have seen an evolution: more and more chefs and culinary stars understand the difference between Made in Italy and Italian Sounding and are demanding Italian machinery and ingredients. At HostMilano we find everything necessary to satisfy this demand, along with an extensive selection of international proposals".
"Our company operates mainly in the world of gelato - concludes Oppenheimer (Australia) - so we are always very attentive to new trends from Italy. This is our second time at Host and we will definitely be back again, because here we find lots of interesting new proposals to expand our product ranges and, above all, we find everything we need in a single event".
A two-year journey culminating in exclusive previews
Numerous innovations were presented at the exhibition and this attention to innovation is consecrating Host increasingly as the platform for presenting trends, new ideas and prototypes. A moment for members of the industry to discuss and mutually enrich each other.
Examples of innovation include more sustainable dishwashers, which use the steam generated to heat the water, 'digesters' that allow the processing of organic waste directly on site with a view to circular economy, multifunction ovens that incorporate the Internet of Things to manage even complex functions such as HACCP data or state-of-the-art analytics software that allow chains to optimise and orient resources thanks to the real-time monitoring of a fleet of coffee machines. In furnishings, the revival of wood becomes more sustainable thanks to patented technologies to obtain new 3D effects with very thin layers. Overall, almost all of the 2,249 Italian and international exhibitors presented an exclusive preview at Host 2019 of the innovations that are going to characterise the hospitality and out-of-home sectors over the next two years.
The event that expressed innovation in the hospitality sector at the highest levels was undoubtedly SMART Label - Host Innovation Award, the award promoted in partnership with POLI.design and with the patronage of ADI - Associazione per il Disegno Industriale. The dedicated exhibition area where the winning products - 6 Innovation SMART Labels, 3 Green SMART Labels, 47 SMART Labels and 5 Special Mentions By Iginio Massari - were presented, in an essential layout designed to enhance their characteristics, was a huge success. The complete list is available at:
http://host.fieramilano.it/sites/default/files/SmartLabel%202019-selected%20products_27082019.pdf
A line-up of big names and over 800 events for all tastes and all "languages".
Host 2019 also proved to be a unique opportunity to share skills and experiences in a programme of over 800 events and thanks to partnerships with industry associations, which involved professional consultants and experts from all over the world, touching on key issues such as sustainability and technologies 4.0 such as Artificial Intelligence and the Internet of Things.
Among the seminars, the Design Talk meetings in partnership with POLI.design met with great success, focusing on topics such as the challenges of hotel design, luxury or wellness & lifestyle, and events in the Food-Technology Lounge, organised by ANIMA-Assofoodtec and EFCEM Italia, were also well attended, with in-depth examination of technical aspects such as new regulations and their impact on technologies. The meeting between technology and creativity at Restaurant Engineering by APCI, the meetings on the future of Food and Hospitality with the international consultants of FCSI were also very successful. The showcase on innovation in coffee by SCA Specialty Coffee Association and the focuses on mixology and bartending, with new aromas and opportunities offered by new equipment, with professionals and experts from FIPE, Mixer and Planet One, completed the picture of a truly complete and in-depth training.
Attendance levels matched those of star-studded event and audience participation reached stadium level for the captivating competitions, demonstrations and show-cooking with star chefs, experts and masters of the various disciplines. The big names present included: Michele Biassoni, Alessandro Borghese, Antonino Cannavacciuolo, Gianluca Fusto, Davide Oldani and Bruno Vanzan. The new event Pasticceria di Lusso nel Mondo by Iginio Massari was particularly successful: the stage was graced by twenty of the biggest Italian and international names from countries such as Belgium, France and Japan, such as Davide Comaschi, Gino Fabbri, Pascal Lac, Pierre Marcolini, Lucien Moutarlier and Norihiko Terai, personally selected by Maestro Massari.
Eight national and international competitions were held at Host 2019. The Panettone World Championship declared Alessandro Slama's panettone, from "Ischia Pane" in Ischia (Naples), the best artisan panettone in the world. In the quest for the Espresso Italiano Champion, Bolognese youngster Stefano Cevenini overtook competitors from the United Kingdom, Japan and Taiwan in the final, while the Gran Premio della Caffetteria Italiana crowned Paolo Rossi.
The Italian team came second in the Cake Designer World Championship (with Poland first and Peru third). Italy was also awarded the Critics' Award by the press. In the increasingly popular field of Latte Art, the Milano Latte Art Challenge went to South Korean Um Paul while Manuela Fensore won the World Latte Art Battle Championship. Japan won the World Trophy of Pastry, Ice Cream and Chocolate, followed by the teams from China and Italy. Lastly, the Italian team scored a double win at the European Pizza Championship, where Valentina La Porta' s victory was accompanied by her father Salvatore's second place. Both prize-winners are from the pizzeria Al Posto Giusto in Castelli Calepio (Bergamo).
The appointment with the next edition of HostMilano is at fieramilano from 22nd to 26th October 2021.