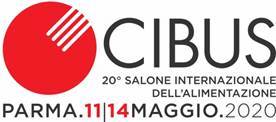 (Parma, October 17th, 2020) – Cibus is coming back. The top biennial food and beverage italian fair will open in about seven months in Parma. Environmental sustainability, renewed attention to issues such as ethics, transparency and respect for local areas by the Italian agri-food sector will be the central focus of the next edition of Cibus 2020.
Thousands of new products will be on display at Cibus 2020 (there were 1,300 at Cibus 2018) and a green guide will accompany visitors as they discover the numerous Made in Italy products that truly stand out for their ecological sustainability. A selection of them will be on display in the Cibus Innovation Corner.
Cibus 2020, organized by Fiere di Parma and Federalimentare, in collaboration with the ICE Agency, will be held in Parma from Monday 11 May to Thursday 14 May, marking its 35th anniversary, in the prestigious setting of Parma, Capital of Italian Culture.
Over 3,000 exhibitors and 80,000 professional visitors, about a third of whom from abroad, are expected to attend. Most Italian food companies have already confirmed their participation in Cibus 2020, in the wake of the success of Cibus Connect in April 2019.
Another central focus of Cibus 2020 will be the relationship between Italian food industry and international Modern Distribution channels - both physical and online - which are crucial to made-in-Italy exports and are already taking hold in Parma.
Meanwhile, the International Road Map initiative continues to present Cibus 2020 and invite top buyers to Parma. Following the promotional Cibus attending at the German Anuga food fair, Cibus will also be present at the FHC Food Hotel Chine in Shanghai, from 12 to 14 November. In Paris, on December 12, Cibus will be one of the sponsors at the Innovation Trophy organized by the fast moving consumer goods magazine LSA. Cibus presentation activities will continue in February 2020 at Gulfood, in Dubai, and in March at Foodex Japan, in Tokyo.