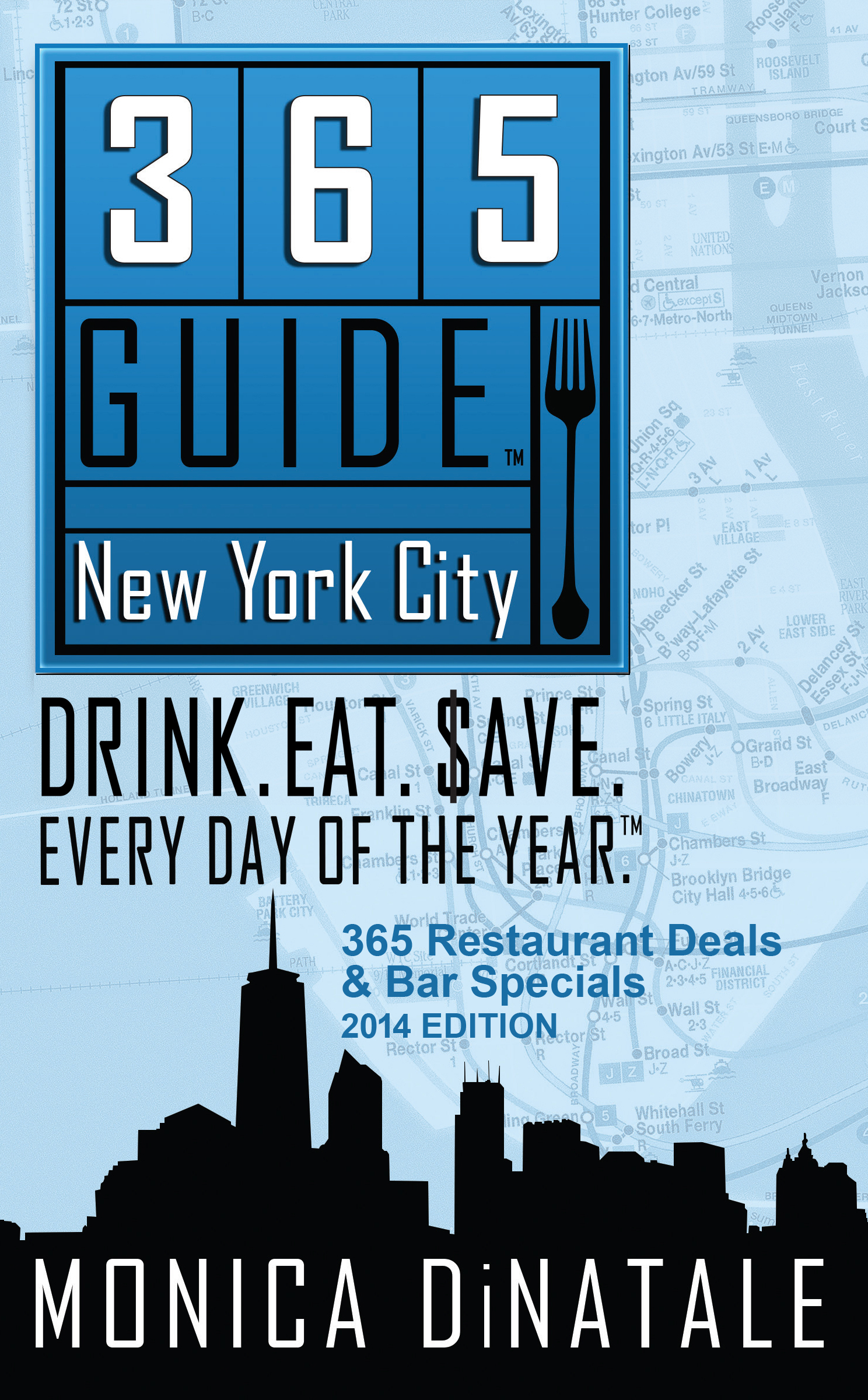 You're in New York for the Summer Fancy Food Show. You're hungry. You're thirsty. You don't want to spend a fortune. Now what? Enter the "365 Guide New York City" (2014 edition) by food host and deals expert, Monica DiNatale. It's the most comprehensive guide to the best restaurant and bar deals anywhere in the city.
Whether you're a native New Yorker or a tourist on holiday, "365 Guide New York City" is all you need to navigate one of the most exciting culinary destinations in the world. From dive bars in the East Village to five-star restaurants in Midtown, this guide reveals the deals previously known only to a select few locals – and DiNatale has visited every restaurant and bar in her book.
The guide provides listings by neighborhood to help you locate a restaurant/bar deal where you need one and, as a bonus, "365 Guide New York City" also includes DiNatale's favorite Seasonal "Finds" and the best affordable places for pizza, hot dogs and desserts. Maps of Manhattan showing the location of each entry and an MTA subway map ensure you will always find what you're looking for.
"365 Guide New York City" is the only book to give you the inside scoop on where to go to eat in the Big Apple at a fraction of the price. The book provides 365 deals, enough for a full year of fun, and is the only New York city guide that tells you where you can find:
· Free, yes, FREE food specials throughout the city.
· $2-$3 drinks any day of the week.
· The best happy hours where you can nosh 'til your stomach's content.
· More deals than any other guide on the planet.
· This guidebook pays for itself!
"'365 Guide New York City' was born out of my passion for drinking, eating and saving," said DiNatale. "I am a New Yorker who eats out eight days a week. I know Manhattan is affordable because I am living proof!"
From high-end dining to hole-in-the-wall must-see spots, DiNatale is your savings guru. Whether you live here, hope to live here or are visiting, if you want to know all about New York's restaurants and bars – at a discount – then "365 Guide New York City" is the book for you.
Monica DiNatale is an engaging television host who has her finger on the pulse of restaurant deals and bar specials. She has been featured as the dining expert for iFood.tv, "The Frugalicious Show" and Brick Underground NY, and has hosted segments for "The New York Chocolate Show" and The New York City Craft Beer Week Festivals. DiNatale also produced "Fun Food with Monica" for iFood.tv and her blog and videos at www.ifood.tv/monica, averaging more than 2 million hits annually. Her interviews include Jacques Torres, Jose Garces and Cat Cora. DiNatale is a 2007 Writer's Guild Award winner and was nominated in 2008. In her spare time, she indulges her ravenous appetite with classes at the Institute of Culinary Education in New York.