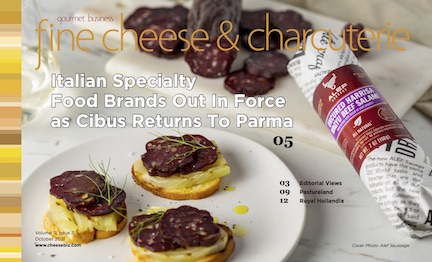 On a recent trip to Switzerland to learn about the production of one of my favorite cheeses, Le Gruyere AOP, I was driving through the Swiss countryside with my colleague from expert cheese affineur Mifroma when he made a surprising announcement. "In this town", he exclaimed, "there is zero percent unemployment". That is because, being a farming community, everyone regardless of age helps out in the family business. When I contrast that with the conversations I have had recently with specialty store owners and restaurateurs, whom have had a difficult time finding adequate staffing for their businesses to restart after the Pandemic, it really drives home the realities of dairy farming.
I had experienced this myself a day prior, when I was privileged to have the opportunity to watch a senior mother and son produce a wheel of Gruyere Alpage AOP, high in the mountains where the cows graze in the Summer season, over a wood fire with the prior evening's milking. That is milking that comes after the morning milking, and is quickly followed up with another evening milking…and so it goes on as long as the cows are there with fresh milk. These individuals work very, very hard, without much of a break, to produce the cheeses that we get to enjoy with our friends and family in the comfort of our homes. They do not produce cheese because they have to, they do it because it's their passion, and it is the life that they chose and enjoy. Many of them are carrying on a family tradition that they are proud to continue.
The food business has done pretty well throughout this Pandemic from all of the reports I have heard from producers. In fact, consumer research indicates that many individuals and families in America found comfort in enjoying special foods to lift their spirits throughout the stressful and uncertain times.
I want to take the opportunity to remind everyone whom has enjoyed some special foods at home over the last couple of years to think for a moment and recognize and appreciate the hard work and effort that is expended at the very beginning of the food chain. We are blessed to have access to so many wonderful foods, especially the products from the specialty cheese business. It is an extraordinary labor of love that I don't think you can even put a price on.