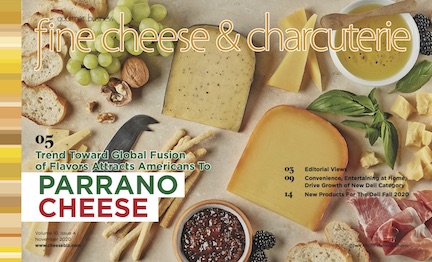 All of the prevalent trends driving demand for food these days are pointing directly to the cheese and cured meat business. The conditions are ripe for more growth I believe, but the industry also has to be aware of the growing competition that traditional grocery retailers are facing from delivery services, convenience stores, and on-line grocers whom are vying for their share of consumer food dollars. This industry is providing much demanded artisanal protein that can be convenient to serve, easily transportable, and consumed in a variety of meal situations. Suppliers are doing a great job of highlighting the benefit of the category whether it is packaged foods intended for a quick snack, grab and go lunch, or impromptu appetizer.
As the convenience channel continues to grow their snack or lunch on the go business, grocery retailers are eager to have some snack oriented offerings to keep their customers for migrating elsewhere. Grocery is better positioned to offer something more substantial and satisfying than snack chips either from their in-store prepared food and sandwich offerings or pre-packaged snack trays from the deli. The specialty cheese and meat industry have responded, by rolling out better and better options to satisfy consumers looking for a quick, convenient and healthy lunch. In this issue we identify some of the newest products coming to market to bolster the category, and reveal the growth prospects for the category.
As the new year approaches, and additional packaging innovations come to market, I expect that the industry will continue to introduce exciting new products for this growing area of the deli in order to take advantage of this market opportunity.