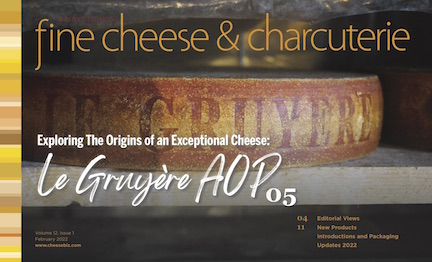 Would you ever have thought that one of the trendiest food trends evident in our country today is Cheese and Charcuterie Boards? It is on the majority of restaurant menus I have seen as of late from various parts of the country. The interesting thing I find, is that most of the time it is the most expensive offering on the starters / appetizer portion of the menu, which means that diners are recognizing how special our products are and are paying a premium to enjoy them.
This trend has created a new category in cheese and cured meats with pre-assorted and packaged appetizer trays from premium brands such as Veroni that takes the guesswork out of finding the right pairings for the consumer. It has driven a whole business across many categories including the presentation boards themselves, to cheese knives and breadbaskets. There are a number of specialty food companies that are creating outstanding condiments that have been specifically formulated to compliment the taste of cheeses from companies like Blake Hill Farm and Maison Riviere. On offer for my recent 20-cheese family holiday party was Jasper Hill Farm Harbison with Blake Hill Farms Savory Onion Confit, which elicited curious stares followed by delightful surprise, as the combination was acknowledged as being a winning combination. Consumers are always seeking special experiences that can be shared with friends and family, and elevating the cheese pairings fits that desire.
I hope that retailers do anything and everything to encourage this trend, and inspire consumers to experiment and regularly feature a cheese and charcuterie presentation of their own choosing or pre-assorted to enjoy at mealtime. If we are successful in fueling the interest, we will be rewarded with even greater sales I believe.
In closing, for this special issue, I would like to thank the Le Gruyère AOP Consortium, Mifroma, and Emmi for taking a moment to share their artisan craft with us.