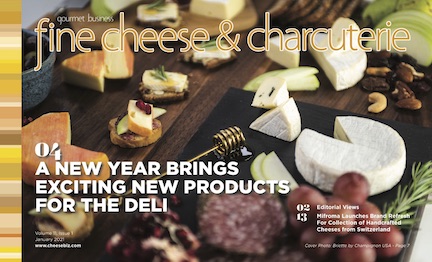 Presentation Is Everything -Expanding The Appeal of Cheese & Charcuterie Through Packaging Innovation
Over the last couple of years there has been a steady improvement in packaging design in the deli area that is much overdue in my mind. It seems to me that the deli area of the store always lagged behind other categories in the store for brand and product appeal conveyed by the packaging. Now that more retailers are moving away from cut and wrap and navigating toward exact weight offerings, there is an opportunity for suppliers to take the initiative to create new packaging that clearly lays out the unique selling attributes of the product. The exact weight trend has already inspired many cheese and charcuterie suppliers to revisit their packaging and labeling, and seize the opportunity to create a newly designed look that clearly states their brand message, identifies the nature of he product, and thoroughly describes the flavor profile. I expect the companies that have invested in updating their look, will earn a nice return on their effort in the form of better sales at point of purchase.
Cheese and charcuterie suppliers have also become quite clever at utilizing the latest packaging innovations, to create unique pre-packaged product assortments of cheese, cured meats, nuts, crackers, dried fruits, and other shelf-stable accoutrements targeted at consumers considering cheese and cured meats for snacking and entertaining. I believe all of the effort has given rise to a new category or occasion driven selling opportunity for suppliers and their retail trading partners that should lead to cross merchandising opportunities in other parts of the store where consumer seek these types of foods.
Taken together, I believe all of the updates and innovation surrounding cheese and charcuterie packing in the store will lift the entire business, as the product offerings in the deli become more appealing and descriptive. In a selling environment where consumers are on their own to consider the many product offerings in a store, packaging quality may provide a new competitive selling advantage to brands that excel at standing out at point of purchase through their product presentation.